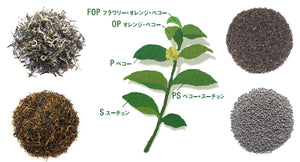 Grades of Black Tea
Black tea is categorized according to the size, quality, shape, and manufacturing method of tea leaves. The most basic grade of black tea is called OP or Orange Pekoe.
The word Pekoe comes from the Chinese word pak-ho, which means white downy hair. On the other hand, the origin of the word Orange in Orange Pekoe is that the new shoots of the Baigo (Bái Háo) variety, which were transplanted from China in the 19th century when black tea production was booming in India and Ceylon, turned white downy hairs Orange color through oxidative fermentation. In addition to the theory that it was named orange pekoe because it turned orange, there is another theory that it came from the fact that the Chinese used orange blossoms to flavor tea leaves in the past, and that it came from the power of the tea trade. There is a theory that it comes from the orange color of the Dutch trading houses that shook the market. In any case, today orange pekoe refers to young tea leaves that have been picked.
The size of the tea leaves does not necessarily make a difference in quality, but the brewing time is different, so the tea leaves of the same size can be extracted evenly for a delicious drink.
whole leaf
FOP
The youngest sprout at the tip of the stem of a tea tree. Among OPs, it refers to high-quality young leaves that contain a certain amount of tips (tips = sprouts/core buds). The more tips there are, the higher the quality, and the grades are further classified according to the number of tips. A measure of good quality. Flowery means a scent like flowers, and is used to describe high-quality tea leaves.
flowery orange pekoe
GFOPs
An advanced grade of FOP that contains Golden Tips, the fine golden sprouts of FOP.
golden flowery orange pekoe
TGFOP
An advanced grade of FOP that contains a large amount of golden tips, which are high-quality sprouts with a golden color.
Tippy Golden Flowery Orange Pekoe
STGFOP
Among the TGFOPs, this is an advanced grade of FOP that contains a large number of silvery-white high-quality sprouts, Silver Tips.
Silver Tippy Golden Flowery Orange Pekoe
FTGFOP
FOP of very good quality. Highest grade with more tips than TGFOP. This grade is used for fine tea leaves from North India, mainly Darjeeling.
Finest Tippy Golden Flowery Orange Pekoe
OP
Second leaf from tip. Young tea leaves next to FOP. Larger than FOP, long and thin tea leaves 7-12mm in length are twisted. Very few tips are included.
orange pekoe
P.
3rd leaf from tip. A leaf in the lower part of the OP. Shorter than OP. Tip not included.
pekoe
PS
Fourth leaf from the tip. Leaves in the lower part of P. short and fat.
pekoe souchong
S.
Fifth leaf from the tip. Large leaves in the lower parts of the PS. elongated and twisted. Often used in Chinese smoked teas (such as Lapsang Souchong).
Suchon
broken leaf
FBOP
A finely cut FOP leaf. It is further classified according to the number of tips.
Flowery Broken Orange Pekoe
TGFBOP
Finely cut TGFOP leaves. Contains many golden sprouts and Golden Tips. Advanced grade of GFBOP
Flowery Broken Orange Pekoe
GFBOPMore
Finely cut GFOP leaves. Contains golden sprouts, Golden Tips. Advanced grade of GBOP.
golden flowery broken orange pekoe
GBOP
Finely cut GFOP leaves. Contains golden sprouts, Golden Tips.
golden broken orange pekoe
BOP
Tea leaves that have been finely cut and sifted to a length of 2 to 3 mm. It can be extracted in a shorter time than a whole leaf.
broken orange pekoe
BP
Cut P leaf. It is slightly larger than BOP, but the extraction time is similarly short.
broken pekoe
BPS
Finely cut PS leaf. Slightly larger than BP.
broken pekoe souchong
fannings
BOPF
It is made by cutting smaller pieces into smaller pieces, allowing for faster extraction, a darker color, and a stronger flavor. 1-2mm tea leaves.
broken orange pekoe fannings
dust
D.
Even finer powder than Fannings, the smallest grade. Due to its fast extraction time, it is mainly used in tea bags.
dust
CTCs
CTCs
Tea leaves are made into granules by the CTC manufacturing method, which crushes, tears, and curls leaf tea. It is often used in Assam, Kenya, and tea bags.
sea ​​tea sea
* Regarding adjectives attached to grades
In tea gardens and tea companies, especially those of superior quality,
The above grades may be added with a "1" at the end or an adjective that expresses unique characteristics.

(example)
1) FTGFOP1
- Finest Tippy Golden Flowery Orange Pekoe "1"
(Top quality of FTGFOP)
2) FTGFOP1 MUSCATEL
- Finest Tippy Golden Flowery Orange Pekoe 1 "Muscatel"
(Highest grade product with FTGFOP1 muscatel flavor)
3) FTGFOP1 CL TIPPY
- Finest Tippy Golden Flowery Orange Pekoe 1 "Tippy Clonal"
(Top-grade FTGFOP1 clonal species with particularly high tip content. Tippy clonal.)

*About tips
The sprouts that have just sprouted and the leaves have not yet opened at the tip of the branch of the tea tree are called "tips".
In particular, beautiful black teas containing a lot of Golden Tips (sprouts whose downy hair on the tip surface is dyed with black tea liquid during fermentation and turned golden) and Silver Tips (silver-white sprouts) are prized as the highest quality and are highly priced. is traded at
---